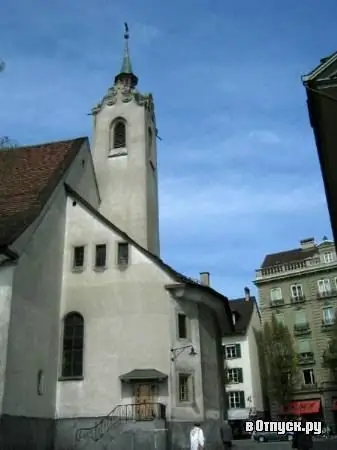 Description of the attraction
Many guides in Lucerne believe that St. Peter's Chapel, located on the square named after her, Kappelplatz, was the first building to appear in the city. But historians believe that the village, which could be called the predecessor of the city of Lucerne, existed here long before the appearance of the chapel of St. Peter - around the 8th century. Its inhabitants supported the ancient monastery in every possible way, one of the abbots of which, according to legend, laid the first stone in the foundation of the chapel of St. Peter in 1178.
The rebuilding of the temple in a baroque manner took place in the years 1746-1751. The construction work was supervised by Hans Georg Urban. During the reconstruction of the church, a new high altar was installed, sculptures by Anton Schlegel were placed, painted medallions by Jacob Karl appeared, and a new gallery was built.
The modern interior of the chapel of St. Peter is made in the manner of the Nazarene artists who lived in the 19th century and imitated the painters of the Middle Ages. In it you can see several paintings on biblical themes. The most interesting and valuable church object is considered to be a Gothic crucifix that survived the years of the Reformation.
Funding for the chapel of St. Peter just a few years ago left much to be desired. This temple was not a parish, so it was used for services, where mainly migrants gathered, who could not make generous donations. The last reconstruction of the building took place more than half a century ago. To save the temple from destruction, the Catholic Church of Lucerne has allocated funds for its renovation and interior renovation.
Photo