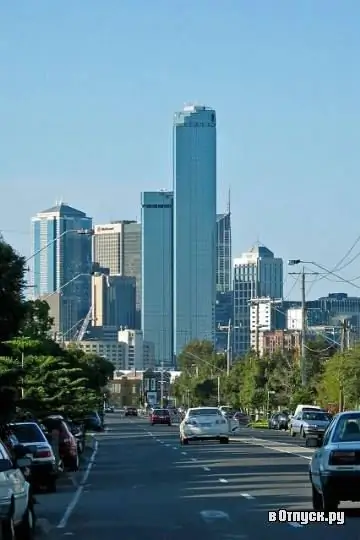 Description of the attraction
The Rialto Tower, located in Melbourne, is the tallest office building in the southern hemisphere and the second tallest reinforced concrete building when you count the height to the roof.
In fact, the Rialto is two separate buildings. At the end of the 19th century, a number of public institutions were located on the site where the towers rise today. Among them was the Rialto office building, built in 1889 and later giving the name to the skyscrapers. Today this ancient building is located next to the towers.
The construction of the office complex began in 1982 and lasted 4 years. The height of the south tower is 251 meters, it has 63 floors. The northern tower is below - 185 meters and 43 floors. From 1994 to 2009, an observation deck was located on the 55th floor of the south tower, which became the first platform in a skyscraper in Melbourne. In good weather, a view with a range of up to 60 km was opened from it. It was possible to climb to the site using one of two high-speed elevators or a staircase consisting of 1,450 steps. Today, on the site of the observation deck, there is a restaurant, which offers a wonderful view of the city and the Yarra River.
And every year the participants of the "Race on the stairs" competition run up the "Rialto" stairs - the winner gets a trip to New York for a similar competition in the Empire State Building.
Photo