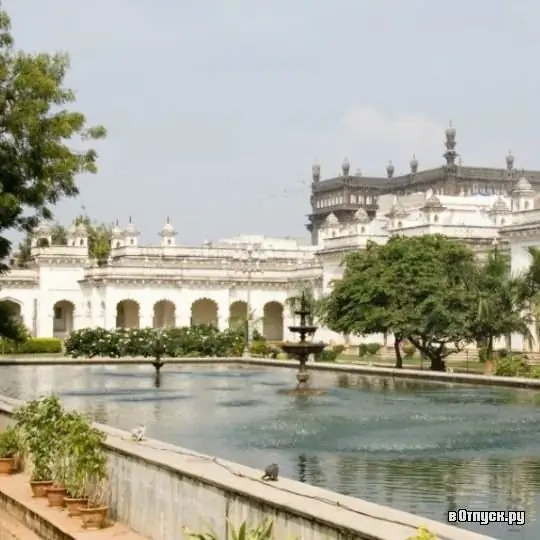 Description of the attraction
The Choumahala palace complex, located in one of the most famous cities in India - Hyderabad, was the official residence of the Nizams (rulers) of the state of Hyderabad, which included the territories of the current states of Andhra Pradesh, Karnataka and Maharashtra. All the most important ceremonies and celebrations were held in this complex.
The construction of this architectural masterpiece began in 1750, when Salabat Jung was the nizam, but was eventually suspended. Construction work resumed more than a hundred years later - in 1857 under the ruler Asaf Jah V, or as he is more often called Afzal ad-Davlah, and continued until his death in 1869. Initially, the territory of the palace complex occupied an area of 180 thousand square meters. meters, but over time this area has decreased, and today Choumahala occupies only 57 thousand square meters. meters.
Translated from Persian, the word "choumahala" means "four palaces". Due to such a long period of creation, this magnificent structure is a unique mixture of architectural styles and trends. On the territory of the complex there are two courtyards of enormous size: southern and northern, where gardens are laid out and fountains are equipped. The oldest part of Choumahal is the neoclassical south courtyard. The buildings that surround it are conventionally divided into four parts: Afzal Mahal, Makhtab Mahal, Takhniyat Mahal and Aftab Mahal. The northern courtyard was built later and housed the state "administration". This part of the complex is made in Islamic style with many domes, arches and Persian ornaments. Also among the attractions of Choumakhal are the Clock Tower, the Hall of Soviets, as well as the "heart" of the complex - Khilwat Mubarak, a huge hall for the most solemn ceremonies, decorated with 19 amazing chandeliers made of Belgian crystal.
Photo