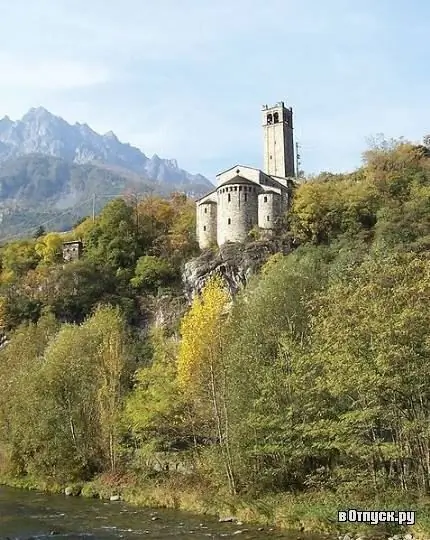 Description of the attraction
Pieve di San Siro is a church in the small village of Chemmo, in the area of the town of Capo di Ponte, in the province of Brescia, standing at an altitude of 410 meters above sea level. This religious complex, perched on a cliff above the Olo River, can be reached via a staircase built in the 1930s.
The founding of Pieve di San Siro in its present form probably dates back to the end of the 11th century, although a fragment of an ancient Roman inscription on a lancet window suggests that this site was previously occupied by a building from the era of the Roman Empire. It was most likely converted into a Christian meetinghouse between the 8th and 9th centuries. Elements of pre-Romanesque capitals and columns have also been preserved in the crypt of the church. The bell tower was erected in the 15th century, and following the visit of Saint Charles Borromeo to Val Camonica in 1580, some parts of the church were rebuilt, including the central nave.
Major restoration work in Pieve di San Siro took place in 1912: the stone decoration, partially collapsed from the portal, was returned to its place, the entire north wall of the choir was rebuilt, and the cross vaults of the side chapels and the caissons of the central nave were removed. The walls of the crypt and the staircase leading into it were also redone. And in the 1990s, another work was carried out to strengthen the building of the church and the bell tower.
Today, Pieve di San Siro is an east-west facing building with three apses and a very elaborate portal on the south side, decorated with various symbols and fantastic flowers. At the back wall, you can see many steps, which, according to tradition, served for those preparing to partake of the sacrament. From there the door leads to the sacristy and the bell tower. It was in this church that the altarpiece "Master Paroto" of the first half of the 15th century, which is now kept in New York, was once located. It is worth paying attention to the huge baptismal font, which was probably made from a bowl of an ancient Roman or early medieval grape press.
Photo