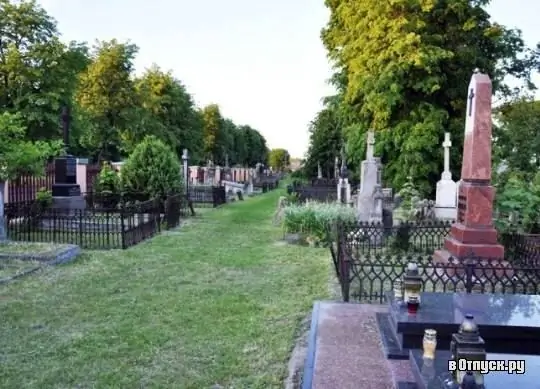 Description of the attraction
The Catholic cemetery in Brest is currently located almost in the central part of the city. Once, back in the 19th century, the land for the burial of Catholics was allocated by the authorities on the very border of the city, so that it would not interfere with urban development. Over time, the city expanded, and some of the graves were demolished, in their place are now residential houses. Currently, the total area of the cemetery is 1.8 hectares. About 3 thousand graves have survived.
The official name of the cemetery is Catholic, however, in Brest it is customary to call it Polish. Most of the cemetery burials, graves, crypts belong to the Poles.
A Polish pilot is buried in one of the old graves. This grave has become an urban legend. Old-timers of the city say that here are buried Polish pilots who flew to Prague and were going to set a new record for flight range, but their plane got into a terrible struggle and crashed. A monument in the form of an aircraft propeller was erected over the grave. Over time, the wooden propeller decayed and now no one knows where the grave of fearless pilots is.
Polish tankmen are also buried in the Catholic cemetery. Their graves are well known. The crosses are made of tank tracks and other parts of the tank, which burned along with the tankers sitting inside.
Famous aristocratic families can be found in the cemetery; famous doctors and Catholic priests are buried here. There is also a mass grave of Polish soldiers. It is dated back to 1920.
The oldest Catholic cemetery tombstone found by historians dates back to 1835. There are crypts, statues of angels, the Virgin Mary and Christ.
Unfortunately, the cemetery is dilapidated and, if the city authorities do not take measures, soon only ruins will remain of it.
Photo