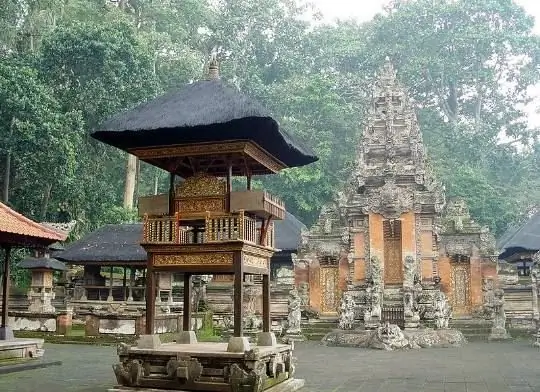 Description of the attraction
Monkey Forest Park is a nature reserve and Hindu temple complex located in Ubud, Bali. The official name of the park sounds like "Sacred Monkey Forest", the same is written on the welcome stand of the park.
The park is one of the most popular among tourists - more than 10,000 people visit this reserve every month. The nature reserve is located near the village of Padangtegal.
There are three Hindu temples in the park, built around 1350. The first temple, Pura Dalem Agung Padangtegal, also known as the Main Temple, is located in the southwestern part of the park. The name of the temple is translated as "The Great Temple of Death". The second temple - Pura Beji is located in the northwestern part of the park; this temple is also called the "Temple of the Holy Spring". In this temple, rituals of spiritual and physical cleansing are held before religious ceremonies. The third temple - the Prajapati temple, is located in the northeastern part of the park, where cremation rituals take place. Temples play an important role in the spiritual life of the local community, and monkeys are revered by local residents, as they are considered the embodiment of the mythical warriors of the army of the king of the monkeys - Hanuman. The territory of the park is sacred for local residents; some parts of the park are closed for public visits.
The park covers approximately 10 hectares and is home to about 115 different types of trees. The reserve is home to about 5 species of monkeys, each species lives in a specific area. Guests are allowed to feed the monkeys with bananas, and you should be careful with things - the monkeys can snatch the bag from their hands and run away.
Photo