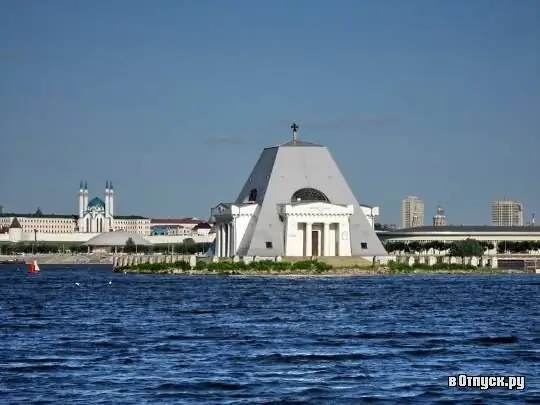 Description of the attraction
The temple-monument to the soldiers who fell during the capture of Kazan in 1552, or as it is also called the Temple-monument of the Image of the Savior Not Made by Hands, was built of stone in the 19th century. The temple was erected in memory of the Russian soldiers who fell during the siege, and then during the capture of Kazan.
It is known from historical documents that two days after the capture of the city by the army of Ivan the Terrible, he ordered Abbot Joachim to bury the remains of the dead soldiers with honors in a common grave. On the hill of the grave, he ordered to build a monastery, the monks of which are obliged to pray forever for the dead.
The burial place during the flood was flooded with the waters of the Volga and Kazanka. Only a small island remained. The monastery was washed away by spring waters and, at the request of Hegumen Joachim, the tsar ordered to move the monastery a little further downstream. In 1560 the monastery was moved to a mountain called the Serpentine, or Zilantova. In our time, it is the Zilantov Holy Dormition Monastery. Memorial services are regularly held there. The names of the fallen soldiers, which are mentioned in the memorial services, are recorded in the Synodnik of the Zilantov Monastery.
A chapel was erected at the burial site of the soldiers in the 16th century. The design and construction of the currently existing monument began at the beginning of the 19th century. Construction went on for a long time, with long interruptions due to lack of money and the outbreak of the 1812 war with Napoleon, due to the typhus epidemic in Kazan and the severe fire of 1815. It is believed that the work begun by Alferov was completed by the Kazan architect A. K. Schmidt, who graduated from the Academy of Arts in 1806. From October 1818, the work went under his direction. He made some changes to the project. Replaced the brick cladding with white stone (from the Vyatka opaque stone).
The construction was completed in 1821, and the interior was completed in the summer of 1823. The monument was consecrated in 1823 on the day of St. Alexander Nevsky by the Archbishop of Kazan and Simbirsky - Ambrose. In 1918, the temple in the monument was closed, and the monument itself was gradually looted and abandoned.
In 2001, the monument was included in the program "Preservation and development of the historical center of Kazan", but this project was not implemented. In 2005, the monument was included in the register of monuments of federal significance. In 2007, the monument was desecrated and completely looted. In 2011, the monument became part of the courtyard of the Svyato-Vvedensky (Kizichesky) monastery. Currently, services are regularly held in the temple.
Photo