Caya Coco is an island in the Jardines del Rey archipelago. This is a popular resort with its own airport, especially relevant for Russian tourists, because some companies organize direct flights from Russia to the Jardines del Rey Airpo airport. In addition, it is connected to Cuba itself by a motor road laid along a many kilometers dam, which can be an interesting excursion in itself.
Like Varadero, this is a closed area, consisting almost entirely of hotels. The name Kaya-Coco is translated as "coconut island", but not because of the coconuts, but because of the nesting places of the white ibis, which in Cuba is called the "Coco bird". In addition to ibises, Caya Coco is home to the largest colony of pink flamingos in Cuba.
Kaya Coco is a small island, so its climate has its own characteristics. It can be windy here: the relief is low, and the inhabitants of the island periodically suffer from hurricanes. On the windy Kaya Coco, the wet rainy season is easier to tolerate, so you can come here in August. But in the winter months it is colder here than in Cuba itself (about 21-22 degrees), and the water temperature is usually higher than the air temperature (up to 25 degrees Celsius). But in general, like throughout Cuba, the tourist season is year-round here. The only thing that makes sense in any season is to stock up on repellents: unfortunately, there are mosquitoes here. It blows them away in windy weather, but if there is no wind, then insect repellents will be very useful.
The entire Jardines del Rey archipelago is a huge diving center. The fact is that not far from these places lies the Mesoamerican coral reef - the second largest in the world after the Australian one. In order to observe its colorful underwater world, tourists from all over the world flock here. Several coral colonies lie two to three kilometers from the island. In addition to snorkeling among corals, here you can snorkel in the mangroves - there is a completely different, but also very interesting world, and a lot of different fish.
Caya Coco districts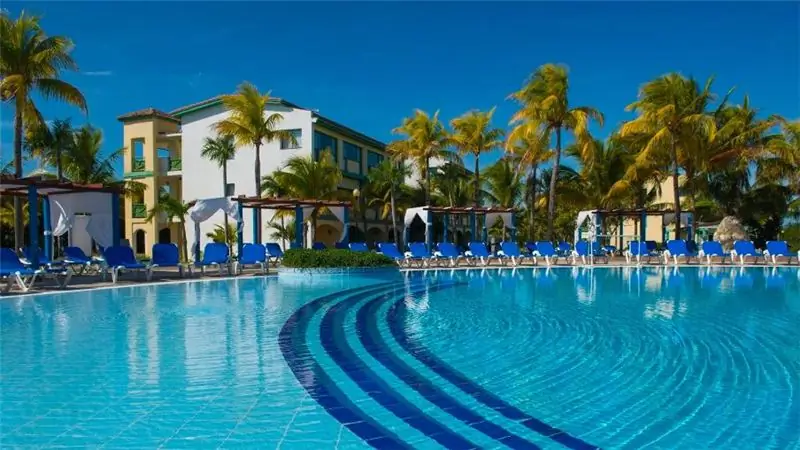 In Cayo Coco, there are actually three residential places where there are large hotels, several beaches and a number of attractions, where they go with excursions. The main life takes place on a wide promontory that juts out on the northern coast. On its western and eastern sides, there are two strips of beaches, on which the main hotels are concentrated. The same infrastructure includes the island of Guillermo, connected to Kaya Coco by a dam. Chain hotels, the complexes of which are located both there and there (for example, Iberostar) provide visitors to both islands with a common package of services.
So, the tourist areas of Caya Coco:
Cayo Coco Beach;
Paradiso beach;
Cayo Guillermo.
Cayo Coco beach
The beach on the northeast coast of the island, where most of the hotels are concentrated, is divided into several sections: Las Coloradas, Largo and Las Conchas. On the westernmost cape there is also the so-called Forbidden Beach - beautiful, but completely wild, however, there is a bar on it - Lenny's Bar & Grill.
All hotels in Caya Coco operate on the "All Inclusive" system, there is practically nothing outside of the hotels on the island. You will not see the specific Cuban flavor and life of the common population of Cuba here, but not all tourists are striving for this. If you are interested in the sea, diving, snorkeling and nature walks, then this is the perfect place.
It is here, just to the east of the beach, that the lagoon is located, where there are places for watching flamingos. Wooden bridges are built to the wetlands of their nesting sites. But be careful, walkways are rarely updated and may require repair. The hotels have the opportunity to take an excursion here, and a professional guide can show not only flamingos, but also dozens of birds that live here. However, flamingos and pelicans can wander just along the beach - two or three you will definitely see wherever you stay: they usually live right on the territory of hotels.
It is ideal for kitesurfing. A huge plus for our tourists is that in this part of the resort there is a branch of the Russian kiting school in Cuba - Cuba-Kite. It works here from October to June, this is the most suitable season for this sport. Its pool is located opposite the Tryp Cayo Coco Hotel.
The only supermarket on the island - it is called "The Seagull" - is also located in this area. There is also a currency exchange office, a pharmacy and several shops with rum and cigars. You can take excursions from any hotel: both by catamaran to the nearest reefs, and to Cuba itself, trips to Trinidad are especially popular. Usually, a catamaran rental, and in some places even a sailing yacht, is included in the price of the stay.
Paradiso beach
The second popular spot on the island, on its northern coast, to the west. This is also a whole strip of beaches, just Paradise Beach, Paradiso is the most famous of them. This also includes the beaches of Flamenco, La Haula and Una Caleta. From here, a little closer to the main evening entertainment of the island. This is the Cueva of Jabali karst cave turned into a nightclub-bar. Free shuttle buses run from most hotels. There are great acoustics, great DJs, delicious drinks, interesting shows - so if you are tired of lying on the beach and want to dance, then this is the place for you.
Another interesting place that is located nearby is the mountaineering center, where you can heartily climb the rocks or learn how to do it. They also work with children in the center: there are instructors and routes suitable for children under 8 years old. This area is home to the resort's largest diving center - Melia Cayo Coco Diving Center at the Pullman Hotel. For those who are afraid to dive, from each hotel you can take an excursion on a boat with a glass bottom and look at the colorful coral world from above.
Guillermo Island
The island of Guillermo is part of the same complex and is connected to Cayo Coco by a dam, along which a road is laid. The entire eastern part of the island is a huge beach. It is divided into sections of El Paso, Pilar and several other very small ones. The first, El Paso, is home to the main hotels, while the famous Pilar Beach is usually reached on foot or by bus that runs between hotels across the island. But Pilar beach is not deserted and wild: there is a good restaurant Playa Pilar, an area with sun loungers and umbrellas and a pool of water activities. A feature of this beach is super-fine sand - it is almost like flour, snow-white and does not heat up in the sun.
But the entire western side of the island is a huge national park with untouched nature. Hotels usually provide a variety of opportunities for recreation here: from jeep safari to horseback riding. The national park has its own dolphinarium, where you can not only watch shows, but also swim with dolphins. The shores in the national park are littered with the remains of pelican meals: these birds catch large crabs or shells from the sea and throw them down onto rocks to break shells. Flamingos live in almost every hotel. There are mangroves to swim in.
A feature of the local beaches is the absence of crowds of people - they are so long that you will definitely find the quietest and most peaceful place. And very close, in fact, opposite the beach, there is a beautiful coral reef. It protects the island of Guillermo from high waves and offers the opportunity to go snorkeling or scuba diving. But there can be wind here, so many people come here to go kitesurfing. Closer to the reef there is another small island - Cayo Media Luna, about two kilometers away. Before him you can take a boat. It is uninhabited, there is nothing on it except the small beach of Cayo Crespo, but near this beach you can go snorkeling - there is something to see right by the coast.
Evening life is only available in hotels, mainly dance shows with a local flavor. There are also circus performances. The bus takes you to the Cueva of Jabali. There are also shops only at hotels. It is impossible to buy wet wipes, hygiene items, diapers here: all these are in short supply in Cuba, so it is better to have a supply with you. But rum and cigars can be cheaper than at the airport.
Photo