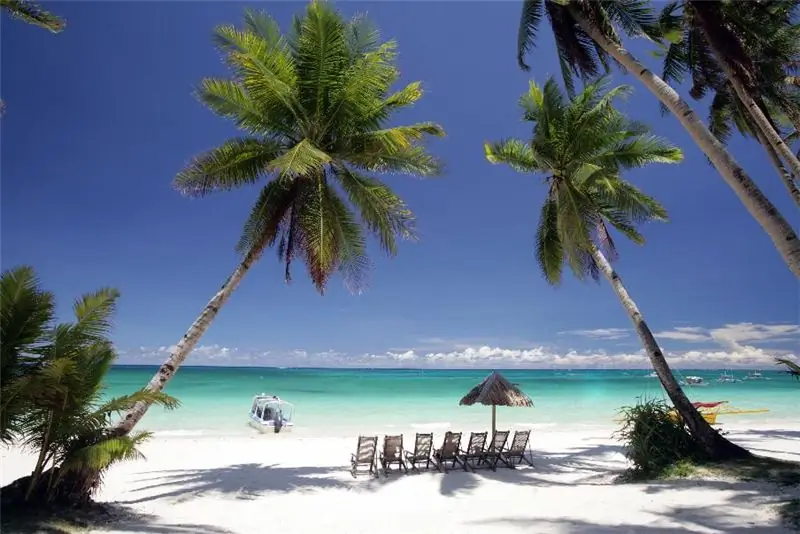 The Philippines is considered one of the most popular destinations in Southeast Asia and regularly receives awards in the tourism industry according to international rankings. This country is worthy of the title of "the beach capital of Asia" - the state includes more than 7 thousand islands in its territory, which form an extended coastline of beautiful white sand beaches. We bring to your attention 6 of the best beaches of the Philippine Islands according to the Department of Tourism of the Philippines for a quality and unforgettable vacation:
Pagudpud Beach
Pagudpud Beach, located in the northern part of the Philippines, on the island of North Luzon (in North Ilocos province), is considered the longest white sand beach. The strong winds and powerful waves make it a favorite destination for surfers.
Mactan Island beaches
The tropical island of Mactan, located east of Cebu province and connected to the city by two bridges, is one of the most visited in the entire province. Here you will find numerous exclusive hotels, resorts with beautiful beaches, shops, historical and cultural monuments, nightclubs, restaurants and bars.
Panglao island beaches
The small island of Panglao, which is located southwest of the larger island of Bohol, is ideal for diving and beach holidays. Panglao is famous for its attractions, including a mysterious cave
Hinagdanan.
The beaches of Camiguin Island
Camiguin Island is considered the most beautiful island in the Philippines; locals call it the "Garden of Eden". Among the many attractions of the island are magnificent waterfalls that form hot and cold natural springs.
El Nido beach
El Nido Beach on Palawan Island is famous for its towering marble cliffs that are home to a number of tropical birds. Also El Nido is famous for the most beautiful seascapes in the province of Palawan. Translated from the Filipino language, El Nido means "heaven", so for the locals it is literally the island of the gods.
Pearl farm, Davao
The Pearl Farm is located on Samal Island off the coast of Davao City, in the southern Philippines. One of the best seaside resorts on the pristine island of Samal was once a pearl farm. Thousands of white oysters transported from the Sulu Sea were once cultivated for their pink, white and gold pearls. Today, beach lovers from all over the world appreciate this world-class beach resort for its panoramic landscapes and whitest sand.
In addition to beaches, the Philippine Islands are famous for nature reserves, emerald rice fields, "chocolate hills". There are excellent conditions for ecotourism and outdoor activities, such as diving, parasailing, kiteboarding. Filipino cuisine is a unique blend of Eastern and Western cuisines: Malay, Spanish and Chinese.
You can get from Russia to the Philippines with transfers (for example, by flights of China Southern Airlines, Emirates Airlines, Qatar Airways, Singapore Airlines, Turkish Airlines, etc.), there are no direct flights at the moment. A tourist visa is not required if the period of stay in the country does not exceed 30 days.