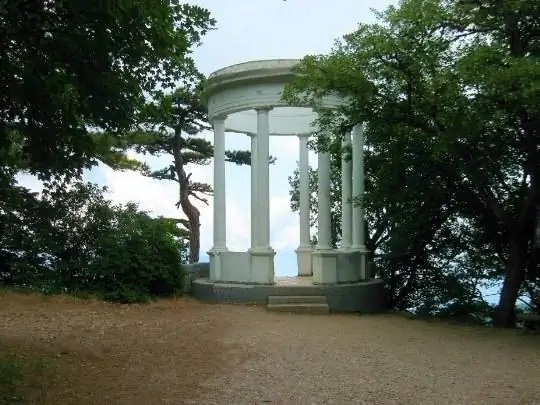 Description of the attraction
The silver gazebo in Yalta is located on the beautiful Pendikul mountain at an altitude of 865 meters above sea level. This is one of the most beloved and visited places in the city.
A gazebo with a romantic name was installed in honor of the completion of the construction of the Yalta - Ai-Petri - Bakhchisarai road. The construction of this "long-suffering" road was carried out manually, in very difficult conditions, by soldiers of the Russian military-engineer battalions for 30 years (from 1864 to 1894). The construction was carried out under the leadership of the military engineer I. Shishko, who worked a lot here together with the valiant Russian soldiers-builders, working with a shovel and a pickaxe, cutting the serpentines of the highway into the rocky mountains. In memory of the selfless work of this officer, one of the rocks of Mount Ai-Petri, hanging over the road, was named in his honor.
In winter, the Yalta pavilion is always covered with light frost, and even from the city you can see how it gracefully shimmers in the sun's rays with a thin layer of silver. It was from here that its name appeared - "Silver gazebo". The gazebo is traditionally painted silver, just like the first road builders did.
A dirt road leads from the gate to the gazebo. Rotunda The Silver Gazebo rises on the edge of the cliff, so for safety reasons, metal railings have been made around it. Also on the territory there is a canopy, three benches, two information stands, two signs and two waste bins.
The Silver Gazebo is the highest point of Yalta. The gazebo offers a wonderful panorama of the city and its surroundings, the most picturesque Yalta amphitheater, the majestic Nikitskaya yayla, the Medved Mountain (Ayudag) overgrown with legends, the magnificent oak-juniper forests of Cape Martyan, the amazing Black Sea coast.
Photo