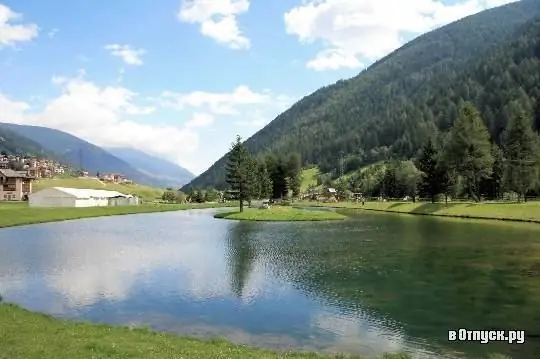 Description of the attraction
Vermillo is a town located at the very end of the Italian Val di Sole on the slopes of Monte Boai. The main source of income for local residents is forestry and animal husbandry, crafts and the production of clay pots are also very common. Summer and winter tourism also plays a role in the town's economy, as Vermillo is part of the Passo Tonale ski resort. And in recent years, Vermillo has become the Italian capital of cross-country skiing - it hosts many national and international competitions in this sport.
Vermillo consists of three districts - Pizzano, Cortina and Fraviano, and its name comes from the ancient place name Armello. The geographical location of the town influenced the development of its history. Here armies passed, goods moved and an observation post was located, which monitored the road on Tonale. Taxes from all over the region were collected here - the house built for this in the 16th century still stands today. From the time of Napoleon until the mid-20th century, bloody battles were fought in and around Vermillo. During the First World War, the town was bombed and raided and was almost completely burned down, so in 1918 it had to be rebuilt. And after the Second World War, a boom in ski tourism began, and Vermillo experienced a heyday.
One of the main local attractions is Fort Strino, which stands on the road between Vermillo and Passo Tonale. It was one of the most important fortifications built during the Habsburg period between 1860 and 1912 to control the transition. In 1906, the fort was strengthened and expanded, and in the 1990s, restoration work was carried out here. Today, Fort Strino has been turned into an exhibition complex dedicated to the First World War, where you can see photographs, documents and various artifacts from that period.
In addition, Vermillo has a number of architectural and cultural monuments, including churches with ancient frescoes and crucifixes. The Parish Church of San Stefano in Fraviano was first mentioned in 1215. It was rebuilt several times and today has one central nave, two side chapels and five altars dating from 1638. In the 19th century, the facade of the church was rebuilt in the neoclassical style. A wonderful 17th century gilded carved niche adorns the main altar. Also noteworthy is the marble altar created by the Veronese sculptor Marchesini in 1666. The Church of San Pietro in Cortina attracts attention with frescoes by Baskenis, while the apse walls of the church in Pizzano were painted by Mattielli in the 20th century. Finally, the Church of Santa Caterina is a superb example of Alpine religious architecture, decorated with 16th century frescoes and a beautiful altarpiece by Francesco Marchetti.
Photo