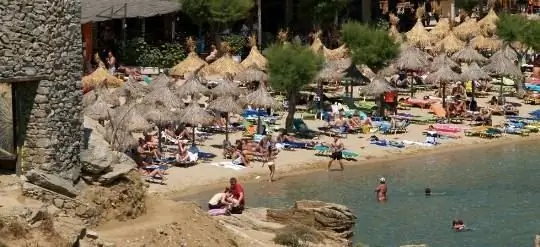 Description of the attraction
Paradise Beach (also known as Kalamopodi Beach) is one of the most famous and popular beaches on the Greek island of Mykonos. It is located on the south coast of the island, close to the beaches of Super Paradise, Platis Yialos and Paraga. You can get to Paradise by bus from the town of Chora (the administrative center of the island), ordering a prudently transfer or taxi, as well as by water taxi from Ornos or Platis Yialos.
Paradise Beach is the sea, sun, music, dancing, all kinds of entertainment and … a feeling of unlimited freedom. This "paradise" got its fame back in the 60s of the 20th century, when this place was chosen by hippies. And today, half a century later, life on Paradise Beach is still in full swing 24 hours a day. At night, the Paradise turns into one huge dance floor. This beach, of course, is especially popular among young people, but nevertheless, here you can meet vacationers of all ages.
The choice of accommodation here is quite large, and just behind the beach is one of the most organized campgrounds in Mykonos. The beach itself is well organized - sun loungers, sun umbrellas, restaurants, bars, eateries, etc. There is a lifeguard team working on the beach.
It offers water sports lovers - jet skis and bicycles, water skiing, scuba diving, sailing, canoeing and much more. Among the many activities on Paradise Beach, beach volleyball, horse riding and bungee jumping are also popular. There is also an excellent diving center.
Photo