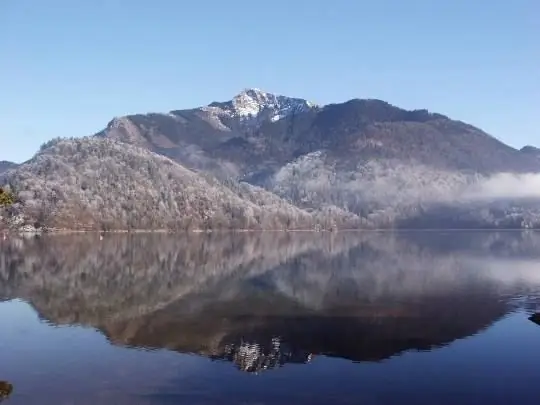 Description of the attraction
Mount Schafberg is part of the large mountainous region of the Salzkammergut and is located about 30 kilometers from Salzburg. Its height is 1783 meters. At the foot of the mountain is the picturesque Wolfgangsee Lake with numerous tiny settlements on its shores.
The top of the mountain can be climbed by a cogwheel railway. Like a toy, this train rushes along its slopes and reaches the very top, from where you can enjoy stunning views of the surroundings, small towns and the extended Lake Wolfgangsee. However, in good weather, in addition to this lake, you can distinguish more than 10 other lakes, including Lake Attersee, which is the largest in all the Austrian Alps.
Still at the top of the Schafberg Mountain there is a small hotel called the Schafbergspitze, opened back in 1862. Interestingly, this is the first hotel in all of Austria to be built on top of a mountain.
The railway, built in 1893, begins in the village of St. Wolfgang, which is located at the foot of the mountain, on the northern shore of the lake. It is worth noting that the road goes up very sharply. The town is located at an altitude of 548 meters above sea level, while the first stop is already at an altitude of 1365 meters. The entire ascent to the top of the mountain takes about 45 minutes. Surprisingly, the railway works even in winter, when the steep slopes are covered with snow, but climbing the mountain at this time of the year is only possible up to 1050 meters above sea level.
It is also worth paying attention to Lake Wolfgangsee itself, which is distinguished by the crystal clearness of its water, which has a turquoise hue. Various types of fish are found here, as well as an old paddle steamer. And the town of St. Wolfgang is famous for its church dedicated to St. Wolfgang, where thousands of pilgrims flock every year. Especially worth noting is the main altar of the temple, which is a late Gothic masterpiece - it was completed in 1481. However, this settlement is also known as a popular ski resort.
Photo