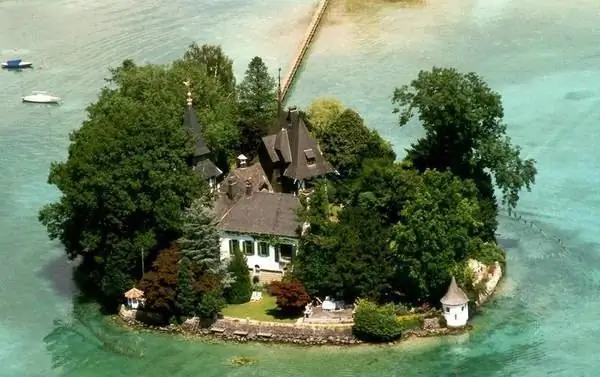 Description of the attraction
Litzlberg Castle is located on a small island in Lake Attersee near the town of Litzlberg in the federal state of Upper Austria. Initially, this building was called Lutzelburg, that is, "small castle". The first owner of the castle was the Mondsee monastery. In 1313 it became the property of Winter von Windern. Another mention of the castle occurs in 1498. The historical chronicle says that the then owner of the Litzlberg Palace sold it to Martin von Pulheim. Since that time, the castle passed from hand to hand about once every 50 years. Longest of all - more than a hundred years - owned this estate with an area of 6 thousand square meters. the family of Elias von See.
An engraving by Georg Mathaus Vischer dated 1674 shows what Litzlberg Castle was like before reconstruction. In those days, there was a powerful fortress on Lake Attersee with a massive square tower and several watchtowers at the corners of the building. In addition, the castle also had a round tower with an onion-shaped dome. A wooden bridge led to the castle. An additional defense of the fortress was a palisade installed right in the water near the castle walls. In 1780, the square tower was dismantled. Its stones were used to reconstruct the burnt city square.
The new building of the palace, built in the style of historicism, dates back to the end of the 19th century. It was then that the Viennese banker von Springer decided to build a new country house here, which was done. A new bridge was built to the island. In 1917, the artist Gustav Klimt lived for some time in Litzlberg Castle, who painted a series of landscapes depicting Lake Attersee. The castle is currently privately owned by the Letl family, which does not allow tourists to enter their home.
Photo