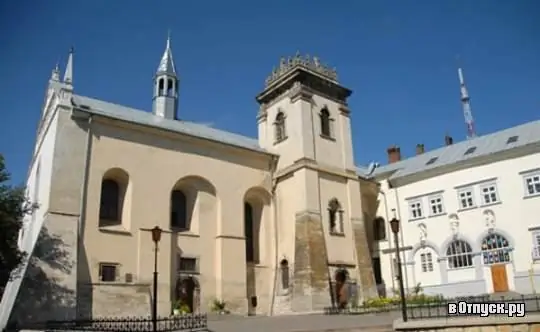 Description of the attraction
The Benedictine Monastery is a valuable architectural monument in the Renaissance style. It is located in the central part of Lviv, at Vecheva Street, 2. The monastery was founded in 1593, and is made in the late Renaissance style.
The construction of the Benedictine Monastery began in 1597. It was founded by three nuns. In 1595, the famous Lviv architect Pavel the Roman was engaged in the construction of the building. The finishing works of the stone monastery lasted until 1616. The architectural complex with protective massive walls has a pronounced defensive character. But in 1623, the creation of the Roman was destroyed by fire. In 1627, the complex was rebuilt by the architect Yan Pokorovich, and after the fire in 1748, the buildings were restored by the architect M. Urbanik. As a result of all these events, the complex has significantly lost its original appearance.
The monastery has a strict and unapproachable appearance, the only softening decorative element are white stone carved portals, and deep window openings penetrate the thickness of the mighty walls. Against the background of the fortress walls, a small two-tiered tower rises. This tower is the most valuable architectural structure in the monastery complex. It is decorated with a white stone portal, a decorative depression with a statue and pilasters that hold the entablature with a Doric frieze. The cell building is distinguished by an unusual two-storey layout with elements of Renaissance architecture.
Today the Benedictine Monastery is called the Monastery of the Holy Protection of the Studite Sisters.
Photo