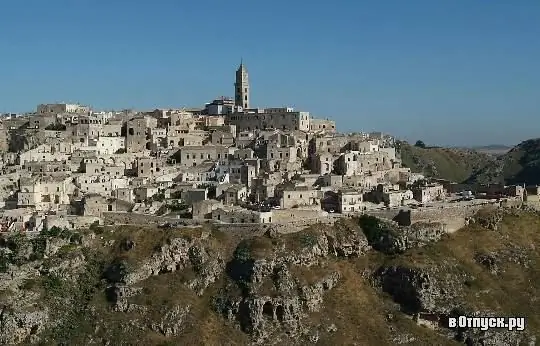 Description of the attraction
Matera is one of the most famous Italian cities located in the Basilicata region perpendicular to a small gorge. These territories were inhabited by humans back in the Paleolithic era, and the city itself, presumably, was founded by the Romans in the 3rd century BC. under the name of Mateola. In 664, Matera was captured by the Lombards and made part of the Duchy of Benevento. In the 7-8th centuries, the surrounding caves were inhabited by Benedictine monks and followers of the Greek Orthodox Church. In the following centuries, fierce battles unfolded on these lands between Saracens, Byzantines and Germanic emperors, and Matera was repeatedly destroyed. After the Normans settled in Puglia in the 11th century, the city came under their rule. Only in the 15th century Matera became the possession of the Aragonese dynasty, and later it was even the capital of Basilicata. In 1806, the title of the capital was transferred to Potenza, and in 1927, Matera became the administrative center of the province of the same name. Interestingly, in 1943, the inhabitants of Matera were the first in Italy to revolt against the Nazi-German occupation.
All over the world Matera is known for its "sassi" - antique dwellings carved right in the rocks. These Sassi are considered to be one of the first human settlements on the territory of the Apennine Peninsula. Many sassis are ordinary caves, and the streets in some of the frequent "stone cities" are located right on the rooftops. In the 1950s, the Italian government forcibly relocated the inhabitants of the Sassi to the modern city, but in recent decades some families have returned. Today Matera can be considered the only place in the world where people live in the same houses as their ancestors about 9 thousand years ago. Many sassis have now been turned into luxury hotels and restaurants, and the entire complex in 1993 was included in the list of UNESCO World Heritage Sites - the first in southern Italy.
In addition to the sassi, numerous religious buildings have survived in Matera, including churches carved into the rocks, which are considered one of the most interesting local attractions. An important architectural monument is the Cathedral of Santa Maria della Bruna, built in the 13th century in the Apulian-Romanesque style. Other noteworthy churches are San Pietro Caveoso and San Pietro Barisano. The unfinished castle of Castello Tramontano from the early 16th century is also worth a visit. Also in Matera there is the Archaeological Museum, the Museum of Modern Art, the Museum of the Middle Ages, the Museum of Peasant Civilization and the Museum of Modern Sculpture.
Photo