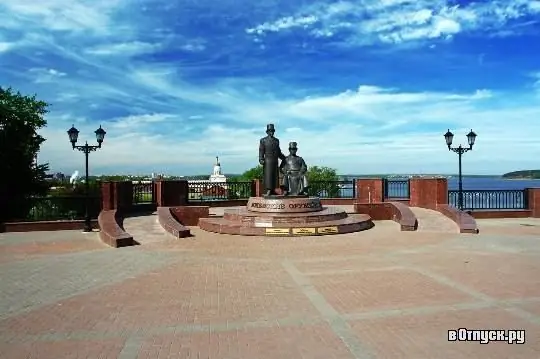 Description of the attraction
The revival of the historical appearance of Izhevsk began from the square, from which in 1807 the city itself began to form and the installation of a monument to the gunsmiths on it. Timed to coincide with the opening of the monument to the 200th anniversary of the Izhevsk Arms Plant and the 60th anniversary of the Kalashnikov assault rifle, in August 2007, on a panoramic plot of the square, a grand opening of the monument took place, personifying the entire history of the capital of Udmurtia.
The author of the monument is the sculptor Pavel Medvedev, who embodied in bronze the idea of recognizing the merits of ordinary armourers who make weapons famous all over the world. The unique monument dedicated to the whole profession is based on two images recreated from old photographs of real people in special caftans. In tsarist Russia, the best armourers sewed a caftan according to special orders, which was necessarily accompanied by: gloves, a top hat and a cane. On the pedestal of the monument are carved the names of famous people who made the main contribution to production over a two-century history.
The height of the sculptures is two meters 70 cm, and together with the pedestal, it exceeds four meters in height, and all this weighs about 4 tons. The monument is located on a steep descent to the arms factory, near the museum of the Izhmash factory, from where a beautiful panorama of the embankment and the historic tower of the factory opens.
The monument to Izhevsk gunsmiths is one of the historical sights of the capital of Udmurtia.
Photo