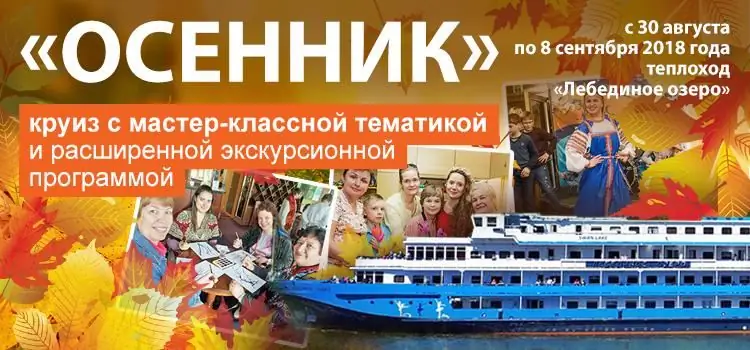 Osennik is a special and unique cruise that is held annually at the beginning of autumn. This year it will be held aboard the Swan Lake motor ship of the Infoflot Constellation brand. Route: St. Petersburg - Valaam - Svirstroy (Novaya Ladoga) - Petrozavodsk (Kivach) - Kizhi - Goritsy - Kuzino - Cherepovets (Sizma / Ustyuzhna) - Kalyazin - Moscow.
Start - August 31, duration - 8 days.
The flight program is full of various activities. The excursion program will be especially interesting, which cannot be found on other river tours. New excursions will take place in Staraya and Novaya Ladoga, Olonets, Ustyuzhna and Sizma. Another novelty is the theatrical tour Kalyazin - Kashin - Kesova Gora. An excursion with a visit to the Shungite House and new ethnographic programs ("Music, songs and dances of the Karelians" and "The Mysterious World of Karelia") will be organized in Petrozavodsk. The program also includes a visit to Kivach, the oldest nature reserve in Russia with a waterfall of the same name.
These and other programs are offered as additional programs on regular cruises. In Osennik they are already included in the price.
The Osennik's theme is creativity in all its manifestations. On board for tourists there will be workshops of Russian crafts, dance classes, an art studio, acting lessons, a chef school and much more.
Be sure to take your children with you! On the motor ship "Swan Lake" there is a children's club and a playroom. A team of professional animators conducts educational games, quizzes and quests with children. Children under 14 travel free of charge.
All services on board the ship are already included in the price: 3 meals a day, all excursions along the route, entertainment on board. For tourists, fitness classes are held every day, there is a rental of sports equipment and board games, and a cinema. Available services "Breakfast in the cabin", titanium with hot water, daily schedule is delivered to the cabin daily.
You can book this flight on the Infoflot operator's website - infoflot.com.