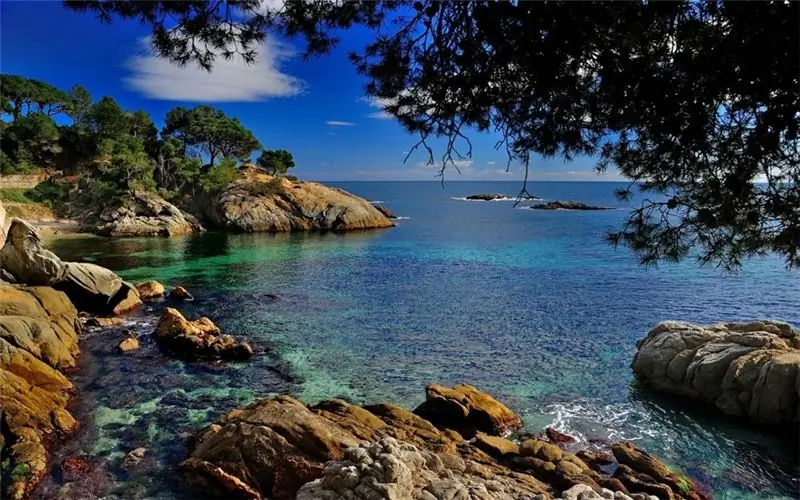 This part of the Spanish coast was called the wild and rugged coast in the twentieth century. The Catalan newspaperman who came up with the name Costa Brava hardly imagined that after half a century the resort potential of the coast would be so highly appreciated that the wild coast would turn into one of the most popular holiday destinations for Europeans. Today, tours to the Costa Brava to its best resorts are always popular with those who want to enjoy authentic Spain and get the best out of their vacation.
In the shade of the pines
The resort area of the Costa Brava is located on the coast, the relief of which is very diverse and picturesque. Mediterranean conifers grow on high rocky cliffs that alternate with cozy coves and bays, and the local shores are covered with white sand or small rounded pebbles. The landscape is complemented by the ruins of ancient medieval castles that adorn the surrounding slopes, and the bulk of monasteries, majestically frozen on the coastal hills.
The most famous resorts on the local Riviera are well known to regular participants on tours in the Costa Brava:
Lloret de Mar The most visited holiday destination not only on the Costa Brava, but also throughout the Mediterranean resort area of Spain. The local beaches are well protected from the northerly winds, and therefore the swimming season in Lloret de Mar lasts a very long time. The place is ideal for good swimmers - serious depth starts already ten meters from the shore, and for gourmets - dozens of restaurants and cafes serve classic Catalan cuisine.
Portbow is a resort on the very border in France. From here you can take boat trips on a yacht and go by electric train to the nearest cities of the neighboring country, in order to add a cognitive component to just a beach vacation.
Blanes is the southernmost on the Costa Brava and the oldest resort. It can offer its guests four kilometers of perfectly clean comfortable beaches and medieval attractions of a very significant level. Even if a hotel in another city was chosen during a tour to the Costa Brava, it is worth going to Blanes and admiring the medieval 13th century San Juan castle and the Romanesque basilica built even earlier.
Briefly about the important
Tourists to the Costa Brava generally choose Barcelona Airport as the closest resort to the beaches. Direct flights from Moscow last about four hours. The swimming season on the Spanish Riviera begins with the first days of summer and finishes only at the end of October. The air usually warms up to +28, and the water - to +24 degrees.