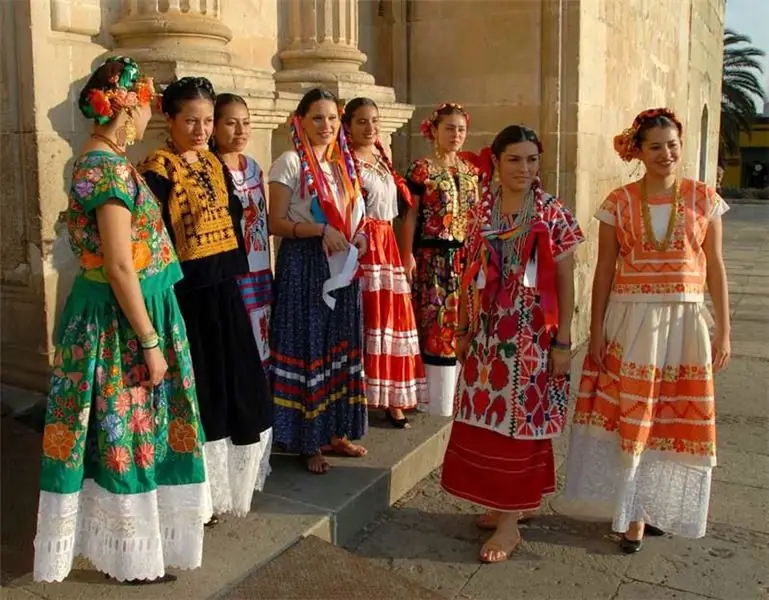 The population of Mexico is over 118 million.
For many millennia, Indian tribes lived on the territory of modern Mexico, who knew how to build cities and dams, process metal, erect temples and pyramids.
National composition:
mestizo (63%);
Indians (30%);
white (5%);
Asians, Afro-Mexicans, mulattoes (2%).
55 people live per 1 sq. Km, but the highest population density is observed in Nesahualcoyotl (Mexico State) - more than 17,000 people live here per 1 sq. Km!
The official language is Spanish, although English is widely spoken.
Major cities: Monterrey, Guadalajara, Tijuana, Leon, Puebla, Ciudad Juarez.
The people of Mexico are Catholic and Protestant.
Life span
Mexicans live up to 74 on average.
In Mexico, there is a high level of obesity (40%), and this is because there are not many fruits and vegetables in the country, and the population mainly eats semi-finished products, and they also eat chips, and instead of water they drink Coca-Cola. In addition, Mexicans are accustomed to a sedentary lifestyle.
As for medicine, in Mexico it is at a low level, and getting to the doctor is not so easy because of the huge queues at the clinics.
Traditions and customs of the inhabitants of Mexico
Mexicans are friendly, cheerful and welcoming people who are renowned for their interesting wedding traditions.
A wedding in Mexico is a holiday, by and large, intended for the parents of the newlyweds (invitations for guests are written on their behalf). As a rule, a Mexican wedding is organized by the godparents of the bride and groom (they also bear the greatest financial costs). In order for the newlyweds to be accompanied by success and luck during their married life, at the entrance to the Catholic church in which the wedding is taking place, everyone present should shower them with red beads. As for the wedding table, as a rule, there are national dishes and exotic flowers on it. A Mexican wedding is always accompanied by dancing. Particular attention is paid to the first dance of the young, during which guests surround them so that they are inside the heart.
Mexicans love to celebrate holidays, for example, in honor of the New Year, they participate in carnival processions, which are accompanied by fireworks.
In memory of Mexico, you should definitely buy traditional souvenirs - carpets, silverware, sombreros, leather goods, wooden figurines and masks, ceramics and onyx products.