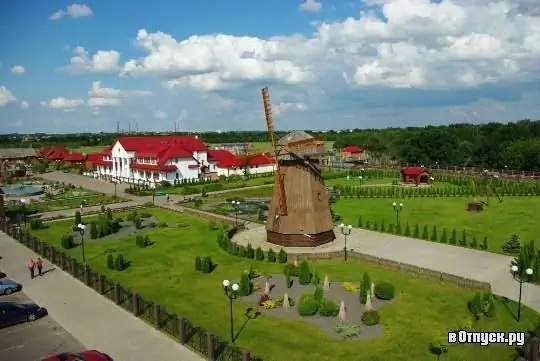 Description of the attraction
Ethnographic complex "Belarusian village of the XIX century" is located not far from Mogilev opposite the memorial complex "Buinichnoye Pole". The complex was built in 2006 for Belarusian ethnic reasons. The purpose of the complex is to familiarize tourists with the architecture, traditions, rituals and folk art of Belarusians.
The ethnographic complex cannot be called an open-air museum - there are no old exhibits here. Rather, it is a tourist cultural and entertainment complex. However, all national crafts have been carefully recreated here. Here everyone will be shown how baskets, furniture, pots, and dishes were made in the old days. Real blacksmiths, weavers, embroiderers, potters, carpenters and other folk craftsmen work here.
Of course, everything that is produced in the City of Masters of the ethnographic village can be touched, smelled, tasted, bought and even made by yourself. A large number of master classes work here, where tourists, under the guidance of experienced craftsmen, can try themselves in a particular craft.
There is also a traditional manor house, which houses a hotel and a tavern. You can visit a windmill, a tavern, a hospitable peasant house. You can taste dishes and drinks of the national Belarusian cuisine, listen to folk music, take part in folk games and festivities.
Ethnographic festivals, folk festivals, fairs and other interesting events are regularly held on the territory of the ethnographic complex "Belarusian Village", thanks to which the original Belarusian culture becomes clearer and closer to everyone who comes here to visit.
Photo