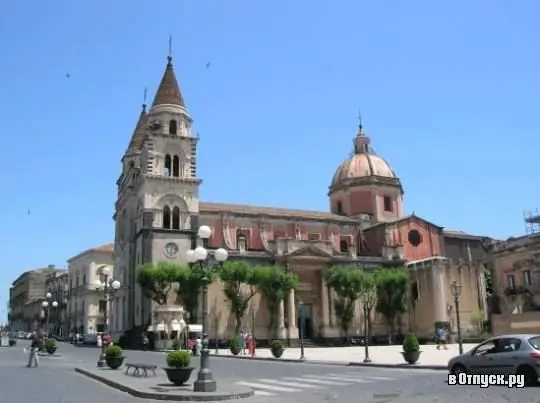 Description of the attraction
The Cathedral of Acireale, named after Maria Santissima Annunziata, is dedicated to the Annunciation of the Blessed Virgin Mary. It is the main Roman Catholic church in the Sicilian city of Acireale and the bishop's see since 1870.
The current building of the cathedral, located in the city's main square, Piazza Duomo, was built between 1597 and 1618. Then it was a small parish church. However, a few years later, when the relics of Saint Venus, one of the city's two patrons, were brought to Acireale, the church was significantly rebuilt and expanded. The holy relics still rest inside the cathedral today.
By a happy coincidence, the Cathedral of Maria Santissima Annunziata survived the devastating earthquake of 1693, during which most of the city was destroyed. The current building of the cathedral is a 17th century structure with several significant annexes from subsequent centuries.
Special attention should be paid to the Baroque portal of the church with the image of the Annunciation by Placido Blandamonte of Messina, made in 1668, as well as the western neo-Gothic façade by Giovanni Battista Filippo Basile, completed after the author's death in 1891. The two bell towers, standing on octahedral bases and made in the mannerism style, are identical in their appearance, although two and a half centuries have passed between their construction. The southern bell tower with a dome was built in 1655, and the northern one with a round rosette window was built in 1890. The interior of the cathedral was designed in the 17th century in the Baroque style.
Photo