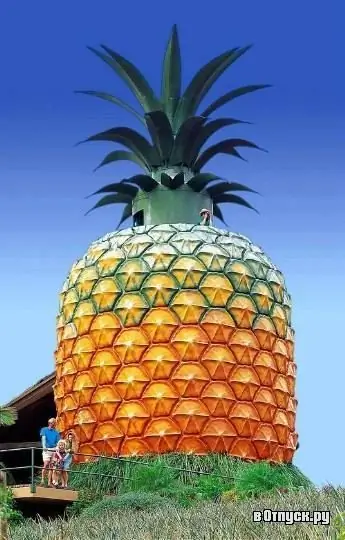 Description of the attraction
Big Pineapple Amusement Park is a tourist attraction and working farm located in the town of Wumbai on the Sunshine Coast. The main "building" of the park, built in the form of a large pineapple with a height of 16 meters, was opened on August 15, 1971.
In the park, you can make two amazing trips: one on the Nut-mobile, and the other on a small train that will take passengers to a real pineapple plantation, and then, if desired, drop off at a small zoo. During the ride, the driver will tell you about the plants grown on the plantation and the history of the place. In the mini-zoo you can feed the animals - the Australian dingo, deer, donkey, alpaca, piglets, chickens, ducklings and various birds. Here you can also see how the macadamia nut is grown.
The park began in 1971 when the Taylors acquired a small pineapple farm (23 hectares) on the off-road side of Bruce Highway. A year later, "Big Pineapple" received the first award from the Australian National Tourism Association for the development of tourism in Queensland. In 1984, the first Nut Mobile tours began and the Queensland Hidden Treasures exhibition opened, showcasing the minerals and gems mined in the state to park visitors. In 1986, the territory of the park increased to 113 hectares. In 1991, the "Stop in the rain forest" was opened, during which the passengers of the "Nut-mobile" could wander through the pristine forest surrounding the park. Last year, the park had new owners who plan to add a number of attractions and recreational opportunities in the future.