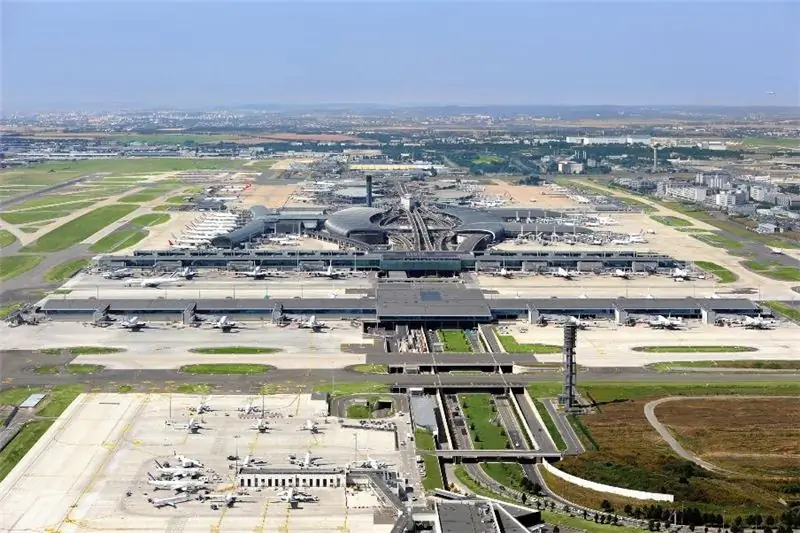 Airport complex
Terminal features
Parking
Transfer from airport
The largest airfield in Paris and all of France, the second in terms of passenger traffic in Europe after the English Heathrow, Charles de Gaulle airport is located 25 km from the French capital. It got its name in honor of the famous politician, one of the presidents of France. Aircraft from the runways of Charles de Gaulle airport take off every few minutes.
The airport complex with its abundance of metal surfaces, a complex system of moving paths, curved passages of a futuristic look resembles some kind of cosmodrome of the future. Engineers and designers seem to emphasize that the future will soon become present. In addition to all the usual services that are offered by many airports in the world, a number of innovations are being actively implemented and used here, which will soon become standard. For example, there are check-in counters here, where you can check in for a flight in half a minute. Border guards use a variety of biometric identification methods - and not just fingerprints.
It is comfortable to be on the territory of the airport. Any passenger feels himself to be a welcome and beloved guest here.
Airport complex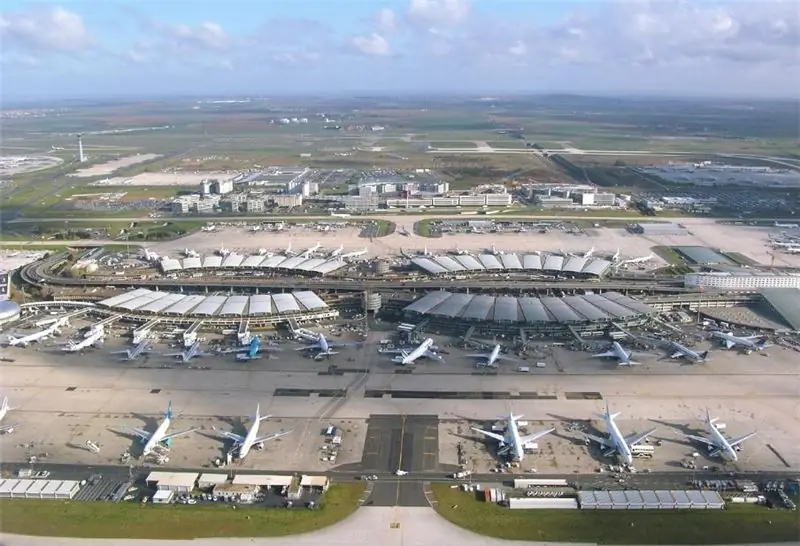 There are three terminals at Roissy-Charles de Gaulle Airport:
Terminal 1 is the oldest of the three terminals, built in 1974;
Terminal 2, consisting of six detached buildings. It was built as a base for Air France, but is currently being used by other airlines;
Terminal 3, formerly known as T9. It serves low-cost carrier flights and charters.
Terminal 2 buildings are designated by the letters A to F. In other major airports in the world, these buildings would be considered separate terminals, so it can be said that Charles de Gaulle airport actually has eight passenger terminals.
When departing from Roissy-Charles de Gaulle airport, it is important to know exactly which terminal the plane departs from, since the distances between the airport buildings are great. Terminals or sub-terminals are clearly marked on tickets: 1, 2A, 2B, 2C, 2D, 2E, 2F, or 3.
Charles de Gaulle airport scoreboard
Scoreboard at Charles de Gaulle airport (Paris), flight statuses from Yandex. Schedule service.
Terminal features
The newest part of the airport, the Terminal 2 complex, has its own RER train station and the TGV intercity express train system. This station is located on the lower levels of the terminal. Passengers heading to Paris or other cities can go down to the station using special walkways with mobile walkways.
The RER train station is located quite far from the first terminal, so passengers are transported to it by free automatic CDGVal trains.
In 2006, the French government decided to separate certain sections in the terminals and turn them into "high security zones". Such attention was paid to the sectors where flights from countries with a high threat of terrorist attacks, for example, the United States and Israel, are served. Security measures have been strengthened at Terminal 2E.
Parking
Several parking lots have been created here especially for those passengers who come to the airport by their own car. Each parking lot has spaces for disabled cars. The parking areas next to the terminals are intended for short-term parking. The first 10 minutes of using the parking lot will cost the driver free of charge, for the next 10 minutes you will have to pay 3 euros. An hour of parking costs 9 euros.
There are also long-term parking at Charles de Gaulle airport. For a week of using one of them, they ask for 125 euros. For parking the car for two weeks, 170 euros are charged. A month of idle time in the airport parking lot will cost more than 200 euros.
Transfer from airport
Paris's main airport is connected by rail to several cities in France and neighboring countries. For example, from here you can go directly to Brussels. The airport railway station is located at the second terminal.
You can get to Paris from the airport by the following types of transport:
by RER train, the terminal station of which is located near the first terminal. The easiest way to reach it is following the signs "Paris by train". The train also stops at the second terminal. Passengers arrive at Gare du Nord, where they can change to the metro to travel further to their hotel;
by bus Roissybus, which takes 40-60 minutes to the Opera Garnier. Buses leave every 15-20 minutes;
by Air France bus. This transport takes you to the Place de l'Esta, to the Gare de Lyon or to Montparnasse;
by night bus Noctilien, which start from all three terminals. They can easily get to several Parisian train stations: North, Lyons, Austerlitz.
If a tourist has arrived in Paris for the first time and does not want to understand the work of Parisian transport, then we recommend ordering a shuttle to the hotel (this can be done at a special counter) or taking a taxi. The car will take the traveler to the place in at least an hour.
Photo