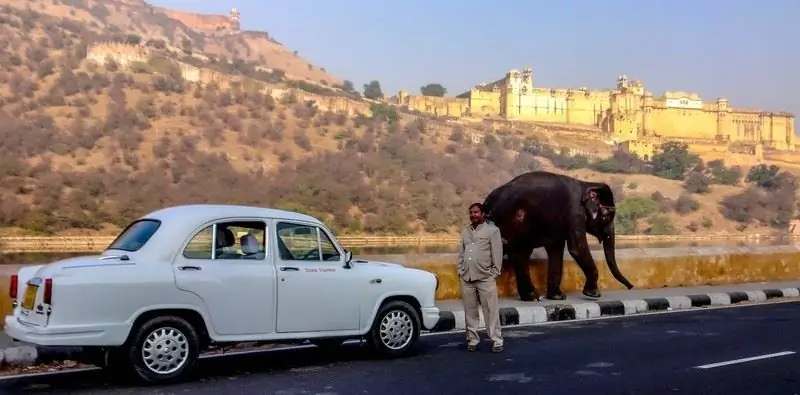 For many of us, from childhood, India has been a country of mysteries and secrets. Someone comes here to relax on the beaches, while others need to improve their health in Ayurvedic centers or Tibetan medicine clinics. But there are also those who are in search of truth and desire spiritual enlightenment. And for whatever purpose you come here, you should not deprive yourself of the opportunity to move freely around the country, where you can meet the manifestations of a multifaceted culture and admire the amazingly beautiful nature. Your travel in India will be more convenient if you rent a car. However, before that, you should find out that you can get the maximum of unforgettable impressions, but whether they will be positive or not depends on how confident you feel on the roads.
In India, the local population is very philosophical about life, and therefore drives cars extremely carelessly. If we have a story about cars driving one after another in the oncoming lane - this is still a joke, a hyperbole, then in India it is a harsh reality! In addition, the roads here are narrow, and markings and road signs may be completely absent. Traffic on the roads of the country is very dense, and this continues almost round the clock, while carts drawn by oxen may appear in the general stream. People, and even representatives of the animal world, wild and domesticated, often go out onto the roadway. Indian drivers often spit on even basic traffic rules, which, by the way, are left-hand. From this it follows that it is better for a driver with little experience and far from having nerves of steel to rent a car with a driver.
Features of car rental in India
It is not difficult to quickly find a reliable and at the same time inexpensive car rental company (with or without a driver) in India.
Car rental in India usually includes:
Airport taxes;
Unlimited mileage;
VAT;
Damage insurance;
Third party insurance by the type of OSAGO;
Theft insurance.
Here you can rent a car of any class and type - sedans, hatchbacks, minivans, off-road vehicles and even executive or premium cars.
You can rent a car at the airport or hotel, at the railway station or just in the city center, you can order a car with delivery directly to your destination.
If you book a car in India, then you may have access to such additional options as:
navigation instruments and equipment;
rack for a bicycle, snowboard or ski;
chains for wheels and winter tires - for driving in the mountains;
insurance with partial or complete absence of liability;
child seats and car seats for babies.