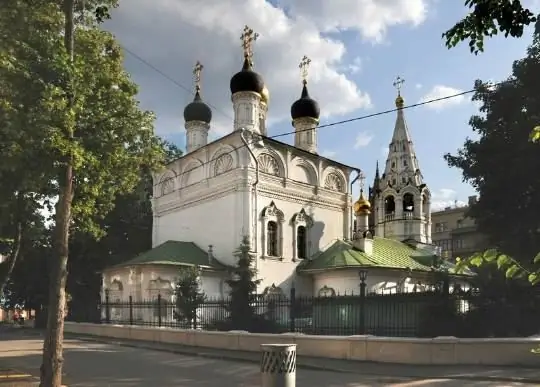 Description of the attraction
The Church of the Transfiguration of the Savior on the Sands is another temple in Moscow, the building of which was occupied by the Soyuzmultfilm studio during the Soviet years. Recall that until recently, the main building of the studio was the Church of St. Nicholas the Wonderworker on Dolgorukovskaya Street, and in the building of this Savior Transfiguration Church from the 50s of the last century there was its puppet department with a carpentry workshop. In the 90s, this building was returned to the Russian Orthodox Church, today it is protected as a federal architectural monument.
In Moscow, the building of the temple stands in Spasopeskovsky Lane, which got its name from the church that stood here. Also in the 19th century, after the Church of the Transfiguration of the Savior on the Sands, Spasopeskovskaya Square was named. Today it is an area near two Arbats. Perhaps this area was called Sands because of the predominance of sand in the soil.
In its present form, the temple was built at the beginning of the 18th century. Its appearance was stylized after the images of churches of the previous century, built in the spirit of the Moscow baroque. However, the first building on this site was the wooden church of the Streletskaya Sloboda, erected in the first half of the 17th century. In the 19th century, the temple had to be rebuilt after the fire of 1812, the arrangement of the temple continued in the middle and at the end of the same century - in particular, a fence and a gate appeared, which became the main portal of the temple. This and other work was carried out with donations from parishioners, mainly belonging to the merchant class. One of the donors was Sergei Turgenev, a cousin of the writer Ivan Turgenev and the headman of the church.
In the 30s of the last century, the temple was closed, the building was redeveloped, because of which it became two-story. After the end of the Great Patriotic War, the building was recognized as an architectural monument, and its restoration was carried out.
Photo