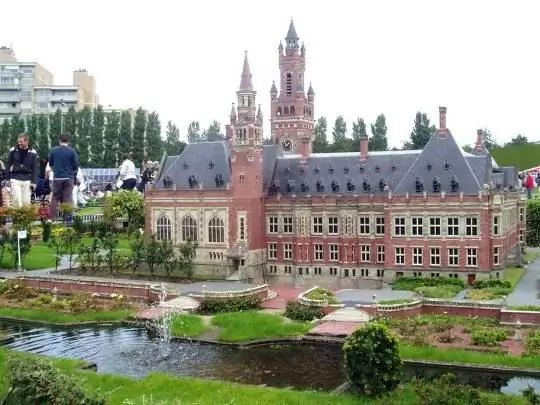 Description of the attraction
Madurodam is a miniature park located in The Hague. It was opened in 1952. Famous buildings, palaces and other sights of the Netherlands are represented here on a scale of 1:25.
The models of the buildings are mostly made of plastic. The trees are real, but also very small, most often they are dwarf species. Cars drive through the streets, boats sail along the canals, and figures of people are dressed in coats and hats in winter, and in T-shirts and shorts in summer.
Madurodam is not only an amusement park, but also a tribute to the heroes of World War II. It is named after George Maduro, a hero of the Dutch Resistance. His parents made the first contribution to the construction of the park, the proceeds from which went to charity - initially it was a sanatorium for students with tuberculosis, where they not only received treatment, but also could continue their education.
The plan of the park was created by the architect Sibe Jan Bauma, who also invented Madurodam's motto: "City with a smile." Crown Princess Beatrix, who was then a schoolgirl, was elected as the first mayor of Madurodam in 1952. She resigned as mayor when she became Queen of the Netherlands, and a new tradition was born: every year the Youth Council of The Hague, which includes representatives of the city's schools, chooses a mayor from among its members. The Youth Council also takes part in resolving issues on the direction of Madurodam's funds for certain charitable purposes.
Madurodam is called a city, but different regions of the Netherlands are represented there. The most famous models of Madurodam are the National Museum, the Royal Palace, churches and the airport (Amsterdam), the Netherlands Architectural Institute (Rotterdam), Binnenhof, Peace Palace and the Mauritshuis Museum (The Hague). In addition to architectural landmarks, Madurodam has tulip fields and windmills - something without which the Netherlands cannot be imagined, something that has become a symbol of the country.
The park grows and changes, new exhibits are added and not only - great importance is attached to interactivity, so that visitors not only watch, but themselves participate in the life of the "city with a smile".
Photo