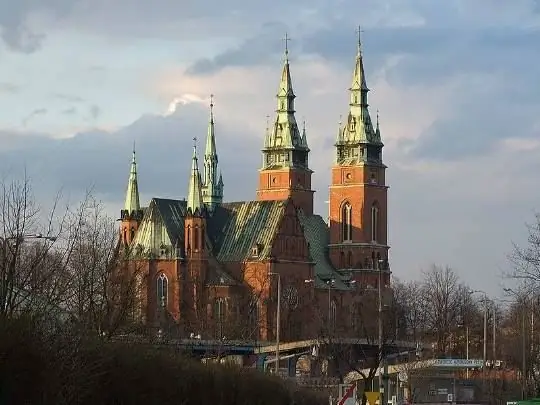 Description of the attraction
The brick neo-Gothic church of the Holy Cross is located on May 1 street. Usually, all travelers arriving at the Kielce railway station follow the historical quarters of the city just past this temple. It was built by the architect Stanislav Shpakovsky at the beginning of the 20th century. Work on this church continued with some interruptions until 1963. The portals were created according to the drawings of the architect Vaclav Borovetsky. This church is famous for its unusual silhouette dominated by two towers with spiers. The facades of the bell towers and the temple are decorated with the figures of the twelve apostles, which were installed in 1931.
The initiator of the construction of the new church was the Kielec bishop Tomasz Kulinski. Most of the work on the construction of the temple was decided to finance a local wealthy nobleman Karol Malsky. The site for the church was allocated outside the historic city center. The construction of the church began in 1902. By 1913, only the first stage of construction was completed. At the same time, a local parish was founded.
In 1931 the church was decorated with a tower, for which the bells were bought.
During the First World War, the owners of the temple were the Salesian society, which still owns it.
Basically, the construction of the temple was completed in 1936. In subsequent years, work was carried out on its interior decoration, which were interrupted during the period of hostilities. The consecration of the church took place on September 15, 1963, and was conducted by Bishop Jan Yaroshevich.
The most beautiful altar, colored stained glass windows and carved portals were created in the second quarter of the 20th century.
Photo