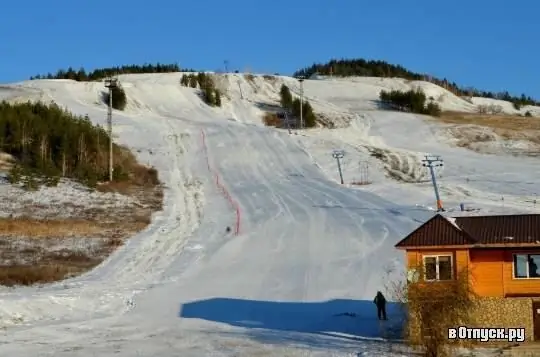 Description of the attraction
223 km from Saratov, in the relict pine forests and picturesque chalk mountains, next to the Khvalynsky National Park, there is a ski resort, the total area of the slopes of which is more than 10 hectares.
Having been operating since 2005, the resort has acquired the fame of Saratov Switzerland in a short time. The highest point of the Volga Upland (379 meters above sea level) with fabulous winter landscapes and crystal clear air was simply created by nature for skiing. Thanks to modern technical equipment and staff, the ski resort is open from late November to mid-April.
At the ski resort in Khvalynsk, you can find everything for a comfortable active holiday with the whole family and company. Even in the "hottest season" there is a large selection of skis and snowboards for rent, for beginners and children there are competent instructors, and if you are an experienced skier with your own equipment, the service center will prepare it for you for the season. Outdoor snack bars with panoramic views of the ski slopes, spacious café, two bars and a restaurant in the hotel building. The hotel complex will provide you with accommodation depending on your wishes, from cozy rooms to a cottage with a sauna.
Khvalynsky ski resort equipped with modern ski lifts offers slopes for every taste and level of skiing. The largest track is more than 1800 meters long, and the height difference is about 181 meters. The tracks of the park with excellent lighting are also suitable for night skiing. The best place for winter holidays.
Photo