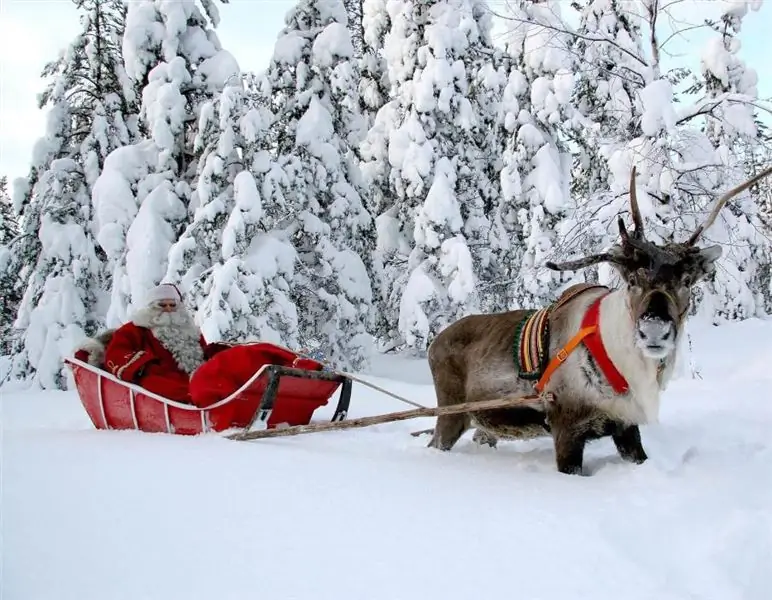 Welcome to the fairy tale
On a visit to the elves
Acquaintance with wildlife
Science as entertainment
Hearty Finnish cuisine
Rovaniemi is one of the most popular resorts in Finland. It is the main city of Lapland, the northern part of the country. Rovaniemi welcomes tourists both in summer and winter. But from December to February, there is a rush for places in hotels and restaurants, because Lapland is associated with many tourists precisely with winter holidays, with snow creaking under the runners of snowmobiles or reindeer sleds, with lanterns from Narnia, with the northern lights in the whole sky, with revived magical characters in the form of Santa Claus and his elves. Where to go in Rovaniemi, what to see during your vacation, what should you definitely allocate a few hours for?
Most of the tourist sites are located outside the Finnish capital Lapland. Rovaniemi Tourist Offices will help you organize your trip there. There are special offers for Russian-speaking tourists, for example, a trip to a deer or a dog farm, where students from Russia work, which will save money on a guide-translator. However, regular shuttle buses also go to each attraction, so if you wish, you can significantly save on excursions.
Do not forget that it gets dark early in Lapland in winter, as early as 2 pm it will be dusk outside. The lack of sunlight compensates for the good lighting of the streets, so you can walk until nightfall.
Welcome to the fairy tale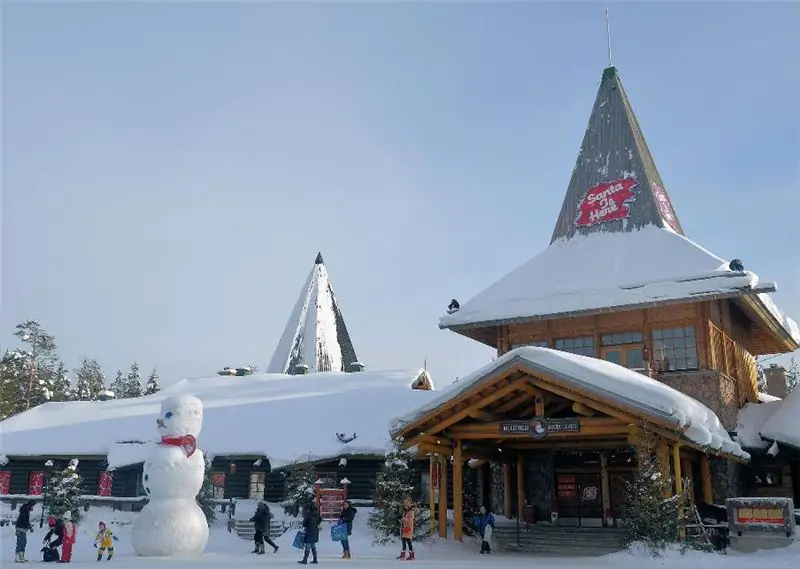 Snowy Lapland resembles illustrations for the book "The Snow Queen". Here you can just walk from your hotel to a restaurant or a nearby store and realize that you are in a fairy tale. This impression is reinforced by a visit to the village, where the real Santa Claus lives, who bears a strange and even offensive name - Yollupukki, which translates as "Christmas goat".
The residence of Santa Claus was built on the Arctic Circle just a few kilometers from the resort of Rovaniemi. A whole village has appeared here, where you can find the "Yollupukki Office", a post office, several shops and restaurants, as well as a hotel complex. Excursions to the village of the local Santa Claus, which, by the way, is not officially recognized by the Santa Claus Association, because it shows its character and does not participate in international rallies of Sant, are very popular.
About half a million tourists come here annually. The excitement begins before Catholic Christmas, when the airport in Rovaniemi receives about 100 charter flights from the United Kingdom alone. What can we say about tourists from other countries? Tourists also come here from Russia. Sometimes it seems that Finland is generally one of the regions of Russia, so often Russian is heard here.
Santa Claus speaks four languages perfectly and can keep the conversation going for another 10-20. All those who arrived at the meeting with Yollupukki line up in a live queue and one by one approach Santa to exchange a few words with him. Santa is photographed with each guest. These pictures can be redeemed at the exit.
On a visit to the elves
Another fabulous place in the vicinity of the city of Rovaniemi is Santa Park, where elves, Santa's helpers, live.
Santa Park was opened not so long ago - at the end of the last century - in the Syvänsenvaara rock. Blasting operations were carried out to create a spacious room where various attractions and a number of restaurants and cafes could be placed. About $ 18 million was spent on the creation of Santa Park.
This theme park is only open in winter and summer. Santa Claus sometimes comes here to check how his elves study in a special school and if they do not skim the making of gifts for children. Any child can take part in Mrs. Klaus's Christmas Gingerbread Decorating Workshop.
If photography is prohibited in Santa's residence, then in Santa Park you can take pictures without restrictions. There is even a vending machine here that allows you to send a video greeting home. The most interesting pictures will be taken in an ice room filled with ice sculptures. At the entrance to it, you will be given a cape that will warm you at sub-zero temperatures. All guests try to capture themselves on the originally illuminated ice throne. After that, you can go to the elves' post office to sign postcards to all family and friends, which they will receive with the stamp of Santa Park. For the little ones, there are carousels and attractions. Children of all ages will be delighted to be in a huge ball where it is "snowing".
You can come to Santa Park as part of an organized excursion or on your own. From Rovaniemi bus number 8 runs here.
Acquaintance with wildlife
An interesting pastime for children of all ages will be trips to places where you can see various animals living in the harsh conditions of the Arctic.
Among the most popular excursions are:
trips to reindeer farms, where you can see whole herds of reindeer up close, feed young animals with bread, take great pictures with horned ones, and also ride a reindeer sleigh. Depending on the circle made by one or a pair of reindeer harnessed to a sleigh, the walk will cost 40-100 euros. The reindeer walk slowly and are managed by a colorful farm employee dressed in a national costume. Some reindeer farms also offer their guests a picnic in a real northern yurt around a live fire and communication with a shaman who conducts a cleansing ritual and invites good spirits to help tourists. Reindeer are loved in Finland. Animals that have reached a venerable age are released into the forest, where special feeders are arranged for them;
dog sledding. Eight or ten cheerful, "smiling" khassok pull light sleds along the snow-covered forest. One person sits in the sled, the second stands behind and drives the sled. Driving is much more fun than just sitting. After a dog sled ride, each guest is given a "driver's license" for a musher. You can learn how to rule a husky in about five minutes. Tourists are required to listen to a short lecture and can ask questions about dogs. The dog farm also has kennels with puppies, which are provided for a photo shoot. There is also a shop where you can buy themed goods: mugs, magnets, postcards with images of local husky stars;
visit to the Ranua Zoo, which is located in a real forest, 80 km from Rovaniemi. To see all the local Arctic inhabitants, you need to walk along a 2.5 km route.
Science as entertainment
Perhaps one of the main local attractions is the interactive museum Arktikum, the exposition of which is dedicated to the history and life of the peoples of the Arctic and the numerous natural resources of Lapland. There is also a section on the history of the region. Of particular interest are automata, which introduce the sounds made by certain polar animals and birds. Pictures of birds and animals are displayed on the screen. You need to choose one - and the whole hall is filled with shouts, barking, hooting, etc. Children freeze for a long time in front of these screens.
The most interesting pavilion of the museum is called Aurora Borealis. It is a round room with a sloped floor and soft mats. All guests lie on the floor in the dark, and the northern lights flare up above them.
All explanatory information for the exhibits is written in Finnish and English. At the entrance, audio guides are given out in different languages, including Russian.
Not far from the Arktikum Museum there is another unique place where you can feel like a scientist, researcher, inventor. This is the Pilke center, where there are many interactive devices about the Finnish forestry industry. Simulators for felling and laying wood are installed here, there is a corner where you can play musical instruments made exclusively of wood. Numerous games and activities are designed for children of all ages. There is even a dark corridor imitating a clearing at night, where you can hear the "conversations" of different animals.
Hearty Finnish cuisine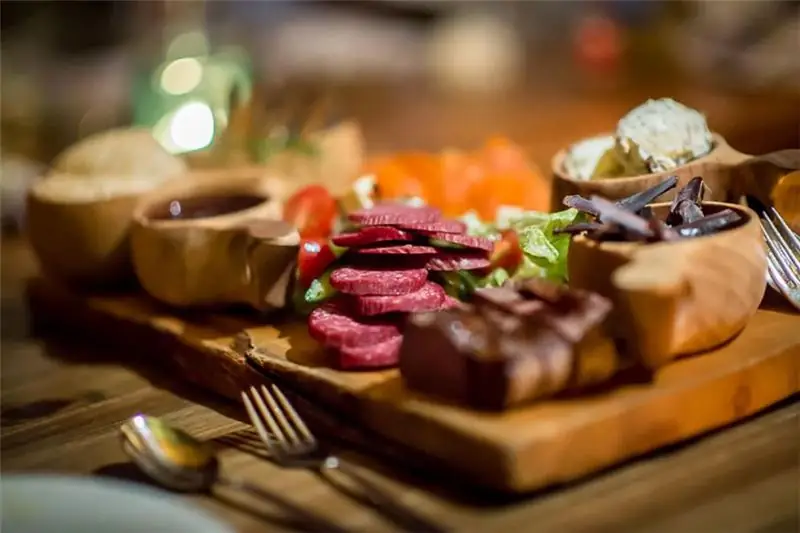 In the Arctic Circle, where the frost gets stronger in the evening, it is extremely important to get a charge of vivacity and energy in the form of hearty, fatty, high-calorie meals. This is the kind of food offered in traditional Finnish restaurants. People settled in these places about 10 thousand years ago. And they immediately began to fish in numerous local rivers and lakes. Here they can and know how to cook fish skillfully. Bear and venison are also served. The desserts include berries from Finnish forests - cloudberries, cranberries, lingonberries. Cranberries make an excellent sauce for meat. You should definitely try fatty, rich soups with mushrooms and cream, venison, vegetables.
Until the last customer, as is customary in many European catering establishments, Lapland restaurants do not work. They usually close at 10-11 pm. This is largely due to the cold climate: after all, tourists still have to get to their hotel at a time when the air temperature drops significantly.
Finland is a rather expensive country. You can save a little on food if you order dishes from the menu of the day for lunch. Many establishments offer a lunchtime buffet.
The most famous restaurant in Rovaniemi is the panoramic restaurant in the Sky Hotel. People come here to try masterpieces from the chef, and not get acquainted with Finnish cuisine (this can be done in simpler and cheaper establishments). Each guest will definitely receive a complimentary compliment from the kitchen. The audience is delighted with venison stewed with chanterelles; a full-fledged lunch consisting only of dishes made from beets; cream soup with seafood.
The dishes served at the Nili Restaurant are based on Lappish delicacies. There are no questions about what is included in this or that dish. Everything is simple and transparent: river fish, bear meat, venison, mushrooms from the nearest forest, lingonberry-blackberry. All this is not cheap, but delicious so that later these dishes will be dreamed of more than once!
Photo