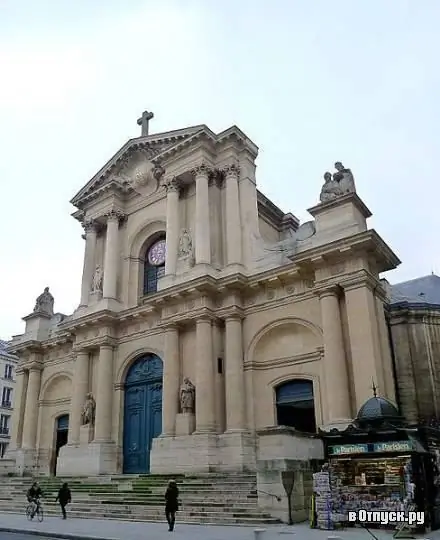 Description of the attraction
The Church of Saint-Roque, located just west of the Palais-Royal, bears the name of Saint Roch of Montpellier, the patron saint of plague and cholera patients, diseases of the legs and skin, as well as livestock and dogs.
Saint Roch is little known in Russia, but is extremely revered in Catholic countries. He was born in about 1295, at the age of 20, he lost his parents, distributed property to the poor and went on a pilgrimage. In Italy, he discovered a terrible plague epidemic. The young man began to wander and heal the sick with prayer and the sign of the cross. Soon he himself contracted the plague, lay in a forest hut completely exhausted, but the dog brought him bread. The saint recovered. However, upon returning to his homeland, he was thrown into prison as a spy - here he ended his days.
Many European churches are dedicated to Saint Roch. Saint-Roc is one of them. Its history begins in 1521, in the years 1645-1722, the building was overhauled according to the plans of the architect Jacques le Mercier. The first stone of the renovated church was laid by the young Louis XIV and his mother Anna of Austria. Since the construction took more than a century, the leading architects of those times had a hand in it: Etienne-Louis Boile, François Mansart, Robert de Cotta, his son Jules. At one time the construction was financed by the Scotsman John Lo, who was the first in the world to realize the idea of paper money in France. The church turned out to be one of the largest in Paris, its facade is an example of expressive baroque architecture.
In the 18th century, the famous Claude Balbatre played the organ by Aristide Cavaye-Cohl here. His fame was so great that the archbishop of Paris forbade him to play Saint-Roc - there were so many people who wanted to listen to the great organist that there was no place left for the parishioners.
In 1795, during an armed uprising by the royalists, the Church of Saint-Roc turned out to be the site of a fierce battle between the rebels and the troops of the Convention, commanded by the young General Napoleon Bonaparte. The future emperor ordered to shoot at the royalists with direct fire from cannons - traces of the cannonade are still visible on the facade of the temple.
In the days of the Paris Commune, when many Parisian churches were captured by "workers' clubs", Saint-Roc remained an island of faith in an ocean of violence and brutality.
Corneille, Helvetius, Diderot, Holbach, Fragonard are buried in Saint-Roc. Already today, Yves Saint Laurent and Annie Girardeau performed the funeral here.
Photo